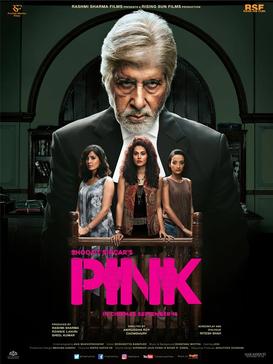 Movie: Pink
Starring: Amitabh Bachchan, Taapsee Pannu, Kriti Kulhari, Andrea Tariang, Angad Bedi, Piyush Mishra, Vijay Varma
Director: Aniruddha Roy Chowdhury
Year of release: 2016
Introduction
Pink is a powerful statement on the existing patriarchal mindset of a majority of India, where men and women are judged by a different yardstick. Minal  Arora (Taapsee Pannu), Falak Ali (Kirti Kulhari) and Andrea Tariang (Andrea Tariang) are working women living together in Delhi.
They meet Rajveer Singh (Angad Bedi) and his friends, Raunak and Vishwajyoti at a rock concert. Subsequently, we see that Rajveer is rushed to the nearest hospital because he is bleeding from a heavy injury to his head. At the same time, Minal, Falak and Andrea return to their apartment in a taxi. They look disoriented and it is implied that they have something to do with the incident.
Premise
Threats arise from Rajveer's friend Ankit (Vijay Varma), who pushes for revenge for the injury Minal caused Rajveer. The threats result in Falak losing her job. The local police are aware that the men are well-connected and backed by Rajveer's uncle Ranjit, an influential politician. Minal goes to a police officer of higher-standing and files a complaint.
The next day, she is kidnapped by Rajveer's friends. Deepak Sehgal (Amitabh Bachchan), her neighbor, witnesses the incident but is unable to help. Minal is threatened, blackmailed, and molested in the moving car and dropped back home, leaving her shaken. A few days later, she is arrested based on a complaint from Rajveer labeling the women as prostitutes and charging Minal with attempted murder. At this point, Deepak introduces himself as a reputable lawyer in retirement. He helps Falak and Andrea with the bail procedures and decides to represent Minal in court.
Proceedings
In the courtroom, Rajveer's lawyer, Prashant Mehra (Piyush Mishra), presents the following version of events:
Rajveer and his friends meet Minal and her friends at a rock concert. They invite the women for dinner at a resort, where they have drinks. The women provoke the men, become intimate, and thereafter demand money, all signs indicating that they are prostitutes. Rajveer refuses to pay and an enraged Minal hits him on the head with a bottle and flees. Prashant's argument focuses on the poor moral character of the women. He attacks the fact that Minal has family in Delhi but chooses to live alone.
Minal and her friends' statement is this:
The men tried to sexually assault them. Rajveer tried to rape Minal and she attacked him with the bottle in self-defense. Deepak's argument focuses on the issue of consent and a woman's right to say no. A series of chilling courtroom arguments ensues in the following days. Towards the end of the trial, Rajveer becomes enraged and on provocation by Deepak, reveals the truth, stating that the women "got what they deserved".
Finale
Deepak criticizes the regressed views of the society where women are stereotyped as prostitutes if they come home late, move out, want to be independent, drink and so on. In the same breath he states that none of these apply to men. He closes with the fact that his client said "NO". No means no, and does not require further explanation.
The women are acquitted while Rajveer, Ankit, and Raunak are held guilty, with the hearing on quantum of their sentences pending. Vishwajyoti is let off with a warning. The ending scenes reveal what actually happened: the men systematically isolated the women and Rajveer tried to force himself on Minal, who then attacked him with a bottle to his head in self defense.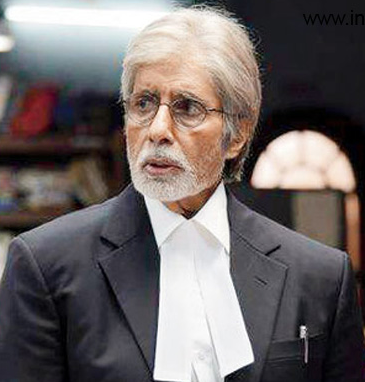 Legal angle
Minal is charged under Sections 320 read with 324 and Section 307 of the Indian Penal Code, 1860. Sections 320 and 324 contain the definition of grievous hurt and the punishment for it, respectively. Section 307 is the charge of attempt to murder. Minal would be rightly held under these sections had her intentions been the same. But Minal's intention was to protect herself and her dignity which led her to hit Rajveer with the bottle in self defense.
When Minal is charged under these Sections her lawyer counters that instead of Minal, Rajveer should be the one who should be charged under Sections 354, 340 and 503 to be read with 506 of the Indian Penal Code, 1860, which correspond to:
Section 354 : Assault or criminal force to woman with intent to outrage her modesty
Section 340 : Wrongful Confinement [1]
Section 503 : Criminal Intimidation [2]
Section 506 : Punishment for Criminal Intimidation [3]
Rajveer had been found guilty of committing all these offences, unlike Minal who acted in self defense.
Analysis and more
"No means no. It's not a word but a statement on its own. When a girl says no, irrespective of whether she is an acquaintance, stranger, friend, girlfriend or wife, it means no. It doesn't require a further explanation."
Amitabh's Deepak is an old man who has quit his legal practice to take care of his dying wife and is often found zoning out due to heavy medication. Right before the last hearing his wife dies so when he says the lines mentioned above, you can feel the tremor in his voice, see the unshed tears in his eyes and hear the agony in his voice.
To whoever thought that Amitabh Bachchan is a tale of the past, this movie is a reminder he is still the only 'Big-B' in the town. Only a veteran like himself, would have been able to show so many emotions without it coming across as over-acting.
Minal has two very different sides. One that is brave enough to hit someone in self defense, that is strong enough to stand for what's wrong, that is independent enough to live separately from her parents in the same city. However, the other side cries for help while locked in a jail cell, breaks down while pleading the Court to believe her, refuses to face her father out of shame and embarrassment. This movie has been a major turning point in Tapsee's career as it showed her skill in her craft and the kind of movies she chose to do.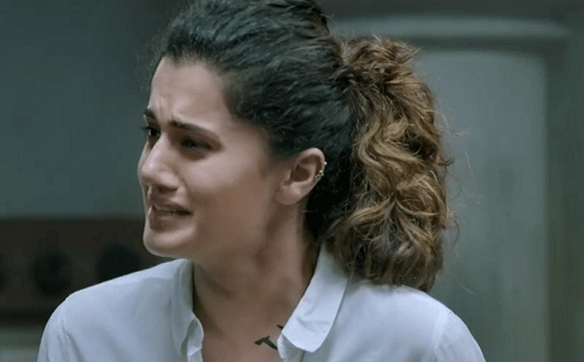 Kriti Kulhari and Andrea Tariang are great as supportive friends. The movie won several awards and critical acclaim and rightly so. It gave a powerful message and pointed out the hypocritical nature of the Indian society towards girls by creating a 'Girls Safety Manual'. This manual, created by Deepak during the court proceedings contains the rules that a girl should follow which will ensure her safety. It contains rules like 'a girl shouldn't go anywhere alone with a boy because it comes across as an invitation to outrage her modesty', ' a girl shouldn't smile while talking because it is an indication of being over-friendly', etc. and so on.
Conclusion
There is an inherent patriarchal mindset which is so normalised by now that rarely any hindi language film brings them under scrutiny, but this one decides to bring them (at least some of them) under the lens, which makes it so relevant in the given times.
The film is called 'Pink' because it is about working women who are vulnerable to a patriarchal sentiment which says that women have no right to say no to men once they have given their consent to being alone with them and are free in their conversation and dealings with them. It is 'pink' because it is emphatically against the idea of passing judgment on people. The film is 'pink', because it is about the law governing these matters and about the defence of the fundamental right of a woman to say no to a man, in respect to her body, no matter what relationship she shares with him, or has previously shared with him.
[1] Meaning of 'Wrongful Confinement', available at: https://devgan.in/ipc/section/340/#:~:text=Whoever%20wrongfully%20restrains%20any%20person,wrongfully%20to%20confine%E2%80%9D%20that%20person.
[2 Meaning of 'Criminal Intimidation' 
[3] Punishment for 'Criminal Intimidation'
Author – Pragati Pachisia, JCCLC
Image Credits: Ronnie Lahiri, Rashmi Sharma and Sheel Sharma